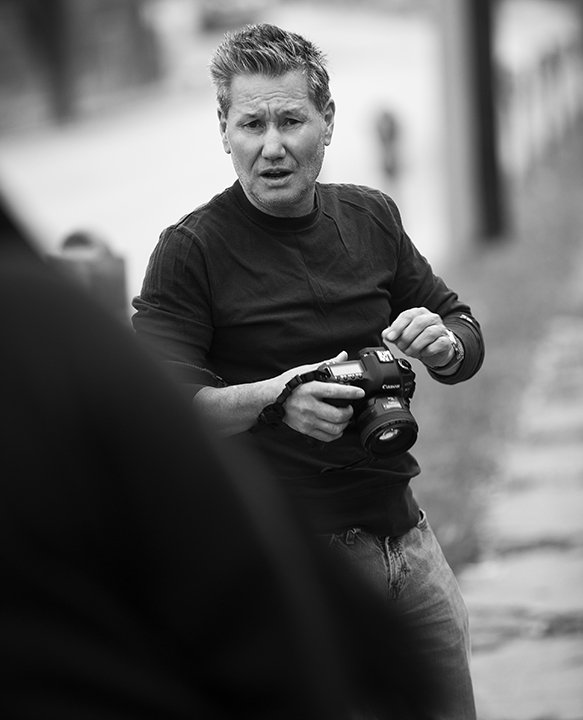 DAVID LESLIE ANTHONY is a Photographer based in the U.S. working in Fashion, Music, Portraiture, Advertising, and Bridal editorial. David works in the NYC, Chicago, Los Angeles, New Orleans, and European markets. Beginning his career in 1989 in Los Angeles, 1990 brought about David's selection to photograph the national Z. Cavaricci Fashion Campaign, which was then quickly followed up with denim campaigns for various fashion companies and magazine editorial assignments in Los Angeles, Toronto, and Vancouver, Canada. A self-taught photographer, David relocated to Paris, France in 1995 to further his career and learning by assisting top photographers, and gaining additional experience shooting for magazines and model agencies in Paris, Barcelona, and Madrid. David returned to North America in 1999, basing himself in Chicago, as a central location between the New York and Los Angeles markets. In 2003, US Ad Review selected David's Michelob Fashion Campaign as "Best Of" in the beverage advertising section. In 2015, David Leslie Anthony was selected to be part of a major group photography show in New York, called "The Reflected Eye", and his work was shown alongside the work of Alexi Lubomirski, Brian Duffy, Diego Uchitel, Erwin Blumenfeld, Fabio Chizzola, Francesco Scavullo, and Horst P. Horst, naming only a few. 2015 also brought about David's work to be included in a showing of fashion photography at The Musee du Louvre, and his work has also been included in multiple group photography showings during the Mercedes Benz Fashion Week in Malta.
David Leslie Anthony's fashion photography has been featured in the books "Photographing Women: 1000 Poses" by Eliot Siegel, and "Outdoor Lighting: Fashion & Glamour" by Cathy Joseph. David is available for photographic assignments throughout the United States, Canada, and Europe.
EDITORIAL WORK
Cosmopolitan Magazine UK; Harper's Bazaar Latin America; Grazia Italia; ELLE Germany; Marie Claire Latin America; Marie Claire Russia; ELLE Netherlands; Glamour UK; Harper's Bazaar Intl. Editions; Conde Nast Traveller; Marie Claire UK; Art+Design Magazine; Cosmopolitan Australia; Cosmopolitan South Africa; Conde Nast Publications; Woman Magazine, Austria; Essential Marbella, Spain; ELLE Magazine, Canada; ELLE Magazine UK; Men's Health USA; Men's Health, Australia; Men's Health, Netherlands; Style & Beaute, France; Men's Health, Italy; Men's Health, Poland; Men's Health, Greece; Madison Magazine, New Zealand; Sunday Magazine, Australia; Prima Magazine, France; Niche Media, NY; Michigan Avenue Magazine; Sheridan Road Magazine; New York Moves Magazine; Angelino Magazine; CS Magazine; Hawaii Magazine; San Francisco Magazine; Manhattan Magazine; Miami Magazine; Chicago Magazine; Splash Magazine Chicago; Playboy Magazine; FHM Magazine, Germany; FHM Magazine, UK; FHM Magazine, New Zealand; FHM Magazine, Australia; Mini Magazine, Russia; Heye Magazine, Switzerland; Heye Magazine, Germany; Look Magazine, UK; Che Magazine, Belgium; Rolling Stone Magazine; ModaFG Magazine; Scene Magazine, Chicago; Framed Magazine; 944 Magazine; Essence Magazine; Zink Magazine; Bella Beauty, Australia; Joy Magazine, Mexico; Loft Magazine, Mexico; Today's Bride Magazine, Canada; CS Magazine Brides; Vanidads Novias, Spain; Women Who Rock Magazine; Fender Frontline Magazine; Factice Magazine, France; JWC Media; Modern Luxury Publications; Cosmetic Magazine, Australia; Inspire Beauty, Australia; Women's Fitness, Australia; Hinsdale Living Magazine; Country Magazine; Vancouver Lifestyles Magazine, Canada
MUSIC ARTISTS
Britney Spears; My Morning Jacket; Age of Electric (Universal Music Canada); 54-40 (Columbia Music Canada); Antoine Becks (Canada); Amanda Marshall; Erin Gipson; John Bottomley (Canada); Bif Naked (Warner Music Canada); Mae Moore (Sony Music Canada); Kill Hannah; Lydia Lunch; Nine Inch Nails/Trent Reznor; Tara McClean (Nettwerk Music Canada); Jeff Chaz (New Orleans); Brian Evans (Canada); Copyright (BMG Music Canada); Belch (Canada); Brian White Band; Simply Smooth (Canada); Second Sun (Canada); Matt Becks; Adam White (Canada); Wendall Brunious (New Orleans); Galileo (Canada)
CELEBRITIES and ACTORS
Jon Seda; Carla Gugino; Jena Malone; Roberto Cavalli; Carrie Coon; Joe Pantoliano; Kurt Russell; Bo Hopkins; Joely Collins; Francois Yip; Jacob Young; Molly Parker; Larsa Pippen; Tommy Chong; Angie Everhart; Camilla Alves McConaughey; Jonathon Scarfe; Sarah Strange; Peter Stebbings; Roberto Cavalli; Andrea Kelly; Chad Willett; Will Sasso; Michelle Beaudoin; Enuka Okuma; Sarah Wright.
ADVERTISING WORK
Calvin Klein; Aucoin Hart Jewelers (New Orleans); Standard/Domain Properties; Migon Faget (New Orleans); Sofia New Orleans; Ricorso Design; Bon Ton; Pepsi UK; Luca Falcone Menswear (New Orleans); Samsung/Digitall; Samsung Europe; Michelob; Cino Apparel NYC; Social.com; Swirl Communications; Bakers Shoes; Prayer Clothing, Los Angeles; Coppley Apparel Group, Canada; Cotton Ginny, Canada; Gamma; Blake-Standard; Yumi Eto, Canada; Marlowe, Canada; Roxanne Nikki, Canada; Voli Spirits; Wear Eyewear; Von Dutch Worldwide; Office, UK; Funkshion Clothing; Hoffman Miller Advertising; Matteo Mas, Canada; Dana Hotel, Chicago; Impulse Australia; Klorane Australia; Veet Australia; Cintas; Sigma Sportswear; Hot Tuna, Los Angeles; Koros; Tzar Chicago; Biggs-Gilmore Advertising; Bonnie Strauss, Los Angeles; Khaki & Whites, Los Angeles; among others.
EXHIBITIONS, GALLERY SHOWS, and AWARDS
2022-23 showings at the Jillian Mac Fine Arts Gallery, New Orleans
2018 Solo show Mac/Gryder Gallery, New Orleans
2016 Fashion Photography Award for career achievements in Photography: New Orleans Fashion Week
2015 "The Reflected Eye" Group Exhibit: New York, NY
2015 Photo Exhibit at The Louvre, Paris: presented by the See Me Awards
2015 The Exposure Awards Honorable Mention in Fashion Photography
2013 Nominated as "Best Fashion/Editorial Photographer" [F] Awards
2012 Lassiter Award for "Best Photographic Layout" Client: Sheridan Road Magazine
2010 Fashioning Desire Group Show/ Chicago Fashion Photographers, City Gallery, Chicago
2010 Photographic Show, Avant Gallery, Miami
2008 Group Show, Avant Gallery, Miami
2008 Solo show, Luxbar Chicago
2006 Solo show, La Passage, Chicago
1992-1994 Awarded 43 Alpha Fashion Awards for Fashion, Editorial, and Advertising Photography: Fashion Group International
1991 Solo show, Avalon, New Orleans
1991 Solo show, Michael Staley Gallery, Los Angeles